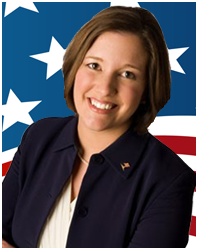 A native of Garden City, Kansas, Stephanie Sharp holds degrees from Southwestern College in Winfield, KS and a master's degree in international affairs and security policy from The George Washington University in Washington, DC. Stephanie worked in the U.S. Senate and returned to Kansas as the government affairs director for the American Cancer Society. At 27, she was elected to represent Lenexa and Shawnee in the Kansas House of Representatives for three terms. Rep. Sharp launched the Sharp Record e-newsletter to inform Kansans on activity at the Statehouse in a cost- and time-efficient way. The newsletter boils down complicated political and legislative procedures to explain their impact on voters' everyday lives.
Stephanie left the legislature in 2008 to further her career and start a family. In 2009, she was elected countywide to the first of two terms on the Johnson County Community College (JCCC) Board of Trustees (2009-2018). She founded Sharp Connections, LLC to further her work in "Translating Politics Into English" for state and local elected officials and candidates. The VoteSharp constituent communications app and KanVote.com subscription service/candidate research site are signature projects to deepen candidates' relationships with voters and increase voter awareness and turnout.
Bad officials are the ones elected by good citizens who do not vote.
— George Jean Nathan
---
Disclaimer:
While Stephanie is a lifelong Republican and Sharp Connections assists Republican candidates, the KanVote™ project is a strictly non-partisan effort to help Kansans engage in the democratic process. Your subscription information will never be sold.